iTero Scan
Posted by: Jodie Blades Diploma Level 3 in Dental Nursing
Medically reviewed by: Dr Anthony Lam BDS (Hons), MSc (Lond), MOrth RCS (Edin)
30th July 2021
With an iTero Scan you can see your results before you start!
At Holland Park Dental Centre we believe you should have as much information about your desired treatment as possible, before you make a final decision!
That is why our iTero Scan appointments are completely free!
Our iTero Scanner allows you to see a digital model of your potential results instantly!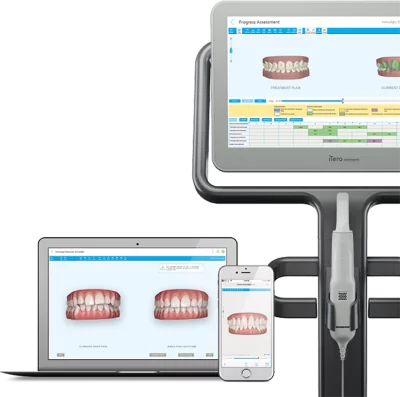 How does it work?
The iTero Scanner captures hundreds of images per second to create a digital model of your teeth. It uses an advanced intra-oral camera and digital software to generate your smile prediction.
Does it hurt?
No. The camera on the end of the iTero scanner wand is gently passed across all surfaces of your teeth until the software has captured enough detail. Sometimes, capturing images of the the very back teeth can be a bit fiddly but it is in no way painful. The scanner takes pictures just like any other camera.
What are the benefits?
Faster Treatment
Because your digital file is uploaded directly to the Invisalign system we're able to get your treatment started much faster than when we ship traditional dental impressions to California!
No gooey impressions
This digital scan completely removes the need to have gooey traditional dental impressions. It's the ideal treatment starter for those with a sensitive gag reflex or a small mouth.
Instant result simulation
The computer generates a simulated outcome, instantly! The software shows a side by side comparison of how your teeth are now, to how they could look after Invisalign treatment.
No obligation
Orthodontics can be a big decision and should be thought about with great detail. That is why, we never pressure you to make a decision at your scan appointment. We welcome you to ask any questions you may have at your appointment, to consider all of the facts – and we'll email you your simulated outcome to consider further.
It's Free!
Further to needing consideration, Orthodontics can be a more costly branch of dentistry. We want you to be sure, and to be happy with your predicted outcome before you begin. We don't charge for iTero scans so that you can have all of the facts to help make your decision.
If you would like to see your simulated outcome get in touch today or book online!